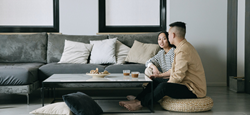 More and more fans of minimalism are interested in Japandi—an amazing mixture of elements from Minimalism, Japanese and Scandinavian design

PARIS (PRWEB)
August 03, 2021
Home Design Institute (homedesigninstitute.com), an educational institution specializing in interior design and landscape design courses, has introduced the first-ever online interior design course in the Japandi style.
An interesting mix of traditional Japanese minimalism and Scandinavian modernism, Japandi is characterized by a flair for simplicity, symmetry, elegance, functionality and the use of natural, sustainable, and eco-friendly materials, brought together to create a feeling of comfort. Its origin dates back to Japan's Heian period where nobles and aristocrats were known for their lavish lifestyles.
"More and more fans of minimalism are interested in Japandi—an amazing mixture of elements from Minimalism, Japanese and Scandinavian design. Focused on the use of sustainable and eco-friendly materials, the style itself incorporates many minimalistic ideas. Its design features elegance and functionality. Most often, Japandi uses soft, pastel colours that are in harmony with nature, which people are looking for," said architect Ana Georgieva, an instructor at HDI.
Japandi incorporates the modern trend for clean outlines with neutral colours, muted shades, and minimal furnishing. The most preferred colours in this style are white, cream, champagne, pastel pink, soft green, and forest green, which evoke a sense of calmness, tranquillity, and inner peace.
Clients are passionately searching for new design trends to furnish their homes. Furniture brands across the globe have to adapt to the ever-growing market and rapidly increasing demand for a particular style of interior design. Environmentalists and those who pay attention to preserving nature, the ecosystem, water, and natural resources find Japandi especially attractive.
"Students expressed enormous interest after we announced the start date of our interior design course in Japandi. Nearly 30% of all inquiries about our upcoming courses were related to it in the first week of announcement. This figure shows there is a lot of interest in this style," said Iliyan Petrov, founder of HDI.
According to HDI's survey, the interest in minimalism is growing, and in combination with the Japanese style of interior design, this trend is attracting even more people.
For more information, visit https://homedesigninstitute.com/course/188/
About Home Design Institute (HDI)

Established in 2020, Home Design Institute (HDI) is an educational institution specializing in interior design and landscape design courses. Established industry professionals (architects or interior designers) conduct effective and practical online training that covers industry requirements within one academic year. HDI has helped more than 10,000 students follow the profession of their dreams in the last seven years.
Share article on social media or email: