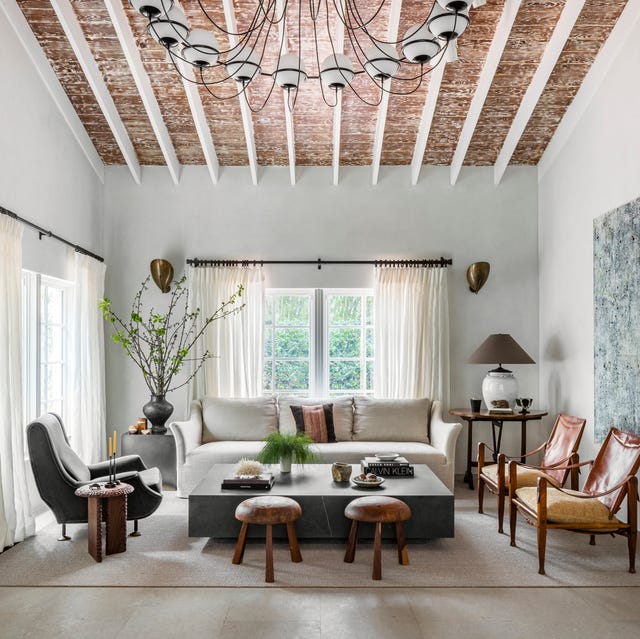 Kris Tamburello
Time and time again, interior designers and industry professionals advise relying on your own personal decor style when decorating your home. However, for those who may just be designing their first home or are looking to make a space feel more personal, it may be hard to pinpoint exactly what your design aesthetic actually is.
"Personal decor should be a reflection of the affinities, inspiration and interests one has," explains Miami-based interior designer Constanza Collarte. "It's less about what you decorate with and more about what that selection says about you."
The furnishings, colors, and objects filling your home should directly showcase your own personality and lifestyle. But, we know that when it comes to design, the sentiment often much easier said than done. Luckily, Collarte, along with Laurie Blumenfeld-Russo of Laurie Blumenfeld Design, are here to offer their expert advice for cultivating personal decor style. Now, get ready to build a home that perfectly embodies you.
Advertisement – Continue Reading Below
1
Research, Research, Research
Make time to carefully look through different types of interior design magazines and books to understand the plethora of decorating styles and techniques. Collarte often recommends people flip through design and travel coffee table books from design-forward publishers like Rizzoli. Be sure to note what rooms caught your eye, and, even more important, what made you roll your eyes.
Additionally, don't be afraid to travel to well-designed hotels or even historic homes to understand how certain antiques or colors can impact the atmosphere of a room. After spending time perusing and learning, you'll notice which styles and applications you tend to gravitate towards, giving you a better idea as to how to incorporate them within your own abode.
2
Take Inventory
Go through each room of your home and look for the pieces that really standout. If an item truly makes you happy, keep it because it will become a key ingredient in building a space (and home) that speaks to your style. You may even want to try moving it to a room you spend more time in to give it a quick refresh.
However, don't toss those items you may not be as fond of just yet. They may actually help ground future statement pieces or additions of bold colors and can also work as buffer pieces until you find the perfect match.
3
Start Small
As mentioned before, you should never feel the need to get rid of everything in your home during this personal journey. Our design expert actually encourage starting out by playing with small details like lamp shades, artwork, or even pillows, all of which can make a big impact without breaking the bank. "If you love Indian block prints, try implementing them in a gorgeous lamp shade," says Collarte. "If wabi-sabi strikes you as interesting, try using a small stool as a side table."
Brooklyn-based interior designer Laurie Blumenfeld-Russo adds that by changing one detail, a room and even the entire home "will often look so different to you," and ultimately helps guide how you redecorate over time. This is also the prime opportunity to experiment with playful furnishings or vivacious color without fully committing to painting a whole room chartreuse or investing in a patterned sofa.
4
Reach Out
Blumenfeld-Russo notes that if you are truly looking to reinvent your space consider reaching out to a designer. Platforms such as The Expert make it easy to connect with renowned interior designers from across the world that can give their masterful advice, even if you're not in need of a full-blown home redesign. Remember those notes you took when researching? Check to see if a certain designer kept popping up, and don't be afraid to reach out to them.
5
Be Patient and Have Fun
With any design or personal project, it takes time, patience, and work. Don't rush into trying to present the perfect house, and instead take your time to build a home that embodies your experiences and the way you live. "Personal decor, like everything in life, should be more about the journey and less about the destination," says Collarte. Your personal decor style is a direct representation of your style, so it will evolve and become more refined as you grow.
This content is created and maintained by a third party, and imported onto this page to help users provide their email addresses. You may be able to find more information about this and similar content at piano.io
Advertisement – Continue Reading Below